Hi guys! You're cordially invited to my advanced birthday celebration tomorrow at Lamesa Grill in SM Northwing, 7:00 PM. Please don't spread the word. Limited seats only.
I'm now officially and irrevocably 22 years old. And unlike before when you really had to torture me before I would admit I'm older, this time I calmly handled with poise what others would consider as tragedy. As a matter of fact, I welcomed my birthday as soon as the clock struck twelve. I celebrated my birthday a day in advance. Instead of 08/09/08, I celebrated it on 08/08/08 – not that I'm superstitious. But it was the perfect day to celebrate, what with the UP Cebu Cookout rocking at the UP Cebu Grounds. The few chosen guests who were close friends, my brother, and his girlfriend and soon-to-be-wife were all available that day. And that was a Friday. What more could the birthday girl ask for?
I chose to celebrate my birthday through a nice dinner. Celebrating it on a beach with family and friends seemed impossible with the erratic schedules my call center friends follow, so dinner was the next best thing. I chose Lamesa Grill on impulse because I started "planning" 5 days before my actual birthday. But I knew I made the right decision when we checked out the place. I totally fell in love with it! The shell lamps that give a soft glimmer to the dark night were a beauty. The bamboo blinds and the wooden fixtures that adorned the place gave it a Filipino accent. I certainly didn't mind having to trade the beach for a place such as that. It's a pity I didn't take more pictures of the place but I swear on my knees, everyone should try it out. The food is fantastic. The service is superb. The crew kept asking if we enjoyed the food and if we needed anything else. Actually, their customer relations skills were excellent, even short of them spoon feeding us. It's a bit pricey but it is just lovely.

You be the judge if we committed gluttony that night. Our table was laden with pinatayong manok, pork belly, lad apahap kinulob (a kind of fish – don't ask me further, we ordered it because Mark was recovering from skin allergy), sinigang na salmon head, mixed seafood ala gambas, seafood rice, leche flan, and buko macapuno rumble. But is this gluttony? We were just enjoying good food. I would have wanted to take pictures of all the stuff we ate that night but I didn't want to look like a total nerd, going around the table and taking pictures of every dish served.
The crew of Lamesa Grill found out that it was my birthday celebration so they embarrassed – I mean, surprised me by singing a rather loud Happy Birthday song and gave me a cassava cake with a candle on top. Awww, that was really sweet. Joining me that night were Mark, Arrah, April, my brother Amiel, and his girlfriend Michelle. I have also invited Phrixel but due to last minute work delays, he wasn't able to catch up. I honestly wanted to invite my blockmates Noreen, Krishna, Ivy, Delna, Yarry, and the others but my budget was not so accommodating. I owe you something guys. I'll make up for it someday.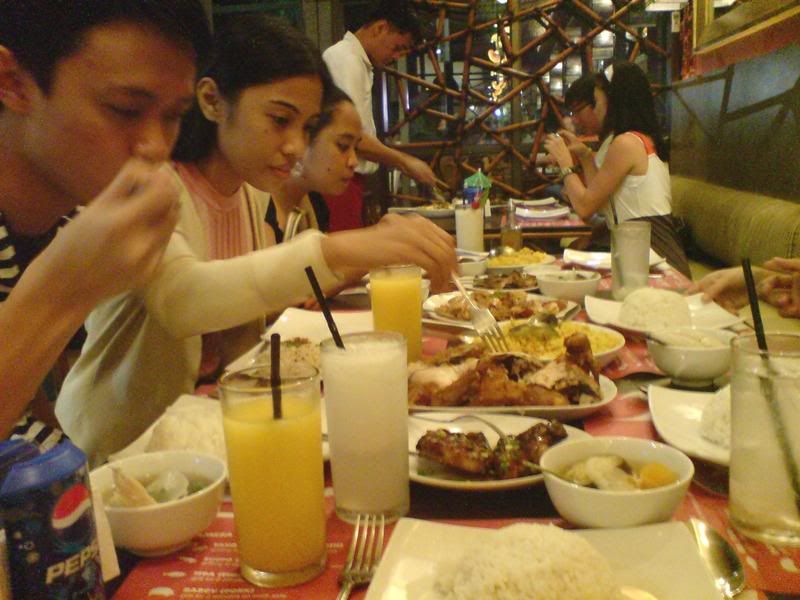 After dinner, we headed to UP Cebu to party. It was the annual UP Cebu Cookout but what made it extra special is that it was the Centennial Cookout. I enjoyed the performances and though there were areas that could be improved, it was all in all a great Cookout. At the UP Grounds, I fell in love with Refrain (everybody did, too – or all the girls did) and saw my old friends and schoolmates in UP. I spent most of the time talking, actually. And while I ignored the pasimple hints that I should give a treat, they were nice enough to greet me at 12m.n.




The main attraction of the event was the performance of Manila-based Slapshock. While they performed and everybody flocked near the stage, my friends and I kept talking while one even slept! Pasaway. And in the middle of their performance, the sleeping Jason Baguia woke up and told us he was going home. Okay, I thought that was enough for the day. It was 2AM and I myself could barely keep my eyes open. I decided to go home, too. I still have to work the next day.




Though tired and sleepy, I had to stay awake for one more ceremony before dozing off: opening my gifts. Much love and thank you to Mark and Arrah who surprised me with presents. Mark even tried to throw off suspicion by telling me through text that the traffic was almost impossible to deal with and that he had no time to pick up a present for me. But when he showed up at the restaurant, he was carrying this Blue Magic paper bag. Mark gave me a very cute pink teddy bear named Monina. It smelled nice too. I had to keep it in the closet because I'm pretty sure if it stays on my bed, the pink color would magically turn grey after quite some time. Arrah gave me an original cd of my latest obsession – Daughtry! Oh boy, oh boy, oh boy! I loved it.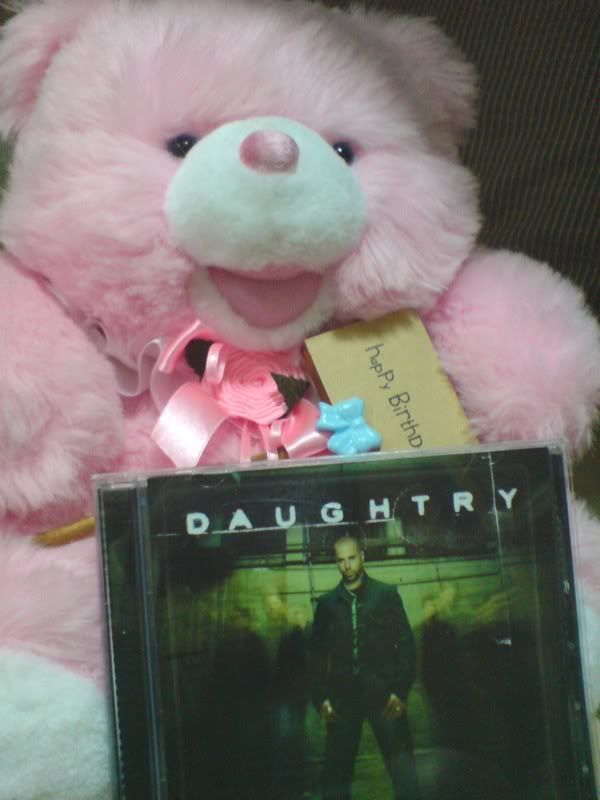 Presents or no presents, I loved every minute of my birthday celebration. Despite sleeping late, I am thankful I still woke up just in time the next day to prepare myself for work. My officemates never found out it was my birthday until I told them late afternoon. But that's a different story.