A friend from college Tim tagged me for a meme. So as a courtesy to the friend I haven't seen for a long time, I'm involving myself in the tradition of answering it and passing it on to others.

If you are to leave an important memory, what would that be? You can answer the question either by posting a picture, a video, writing a poem or whatever you think would best describe the memory that you want to share.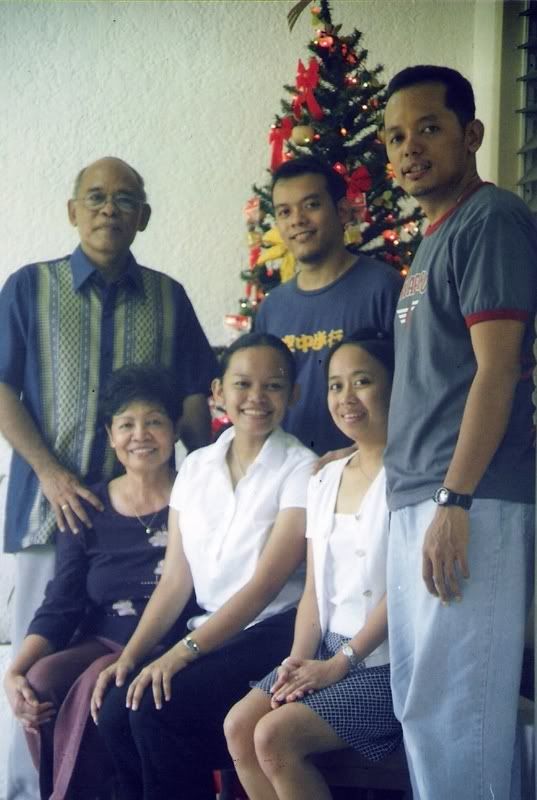 A family picture taken three years ago, this picture was taken by my trusty Nikon manual SLR (single lens reflex) camera at our living room in Leyte after attending Mass on New Year's Day. I was the photographer. I had everyone positioned, adjusted the aperture and the shutter speed, and set the timer. Then I rushed to my place and put on my biggest smile.
Like Tim, I am often stricken with nostalgia especially now that I am living on my own alone and at my own expense. My brother Amiel just moved out last week to live with his pregnant girlfriend and soon-to-be wife. My parents are in Leyte. My other brother Jake and his family are also in Leyte but in a different house. I just miss those days when we are all living in one house together, even if it means quarreling like cats and mice with my brothers. It would feel nice to see everybody you love after a stressful day at work and eat dinner together as one big family. But right now, I just have to accept that this is the way it's supposed to be. It would give each and everyone of us the space to grow and the opportunity to be better and more responsible persons.
Copy the entire list and add your name below the person who tagged you. Then tag at least 5 friends (But you can tag as many as you like) and visit their blog to let them know you tagged them.